Stark Bros Ltd and Ocean Fisheries Ltd proudly presented the FV Jubilee for launch on 30th January 2008.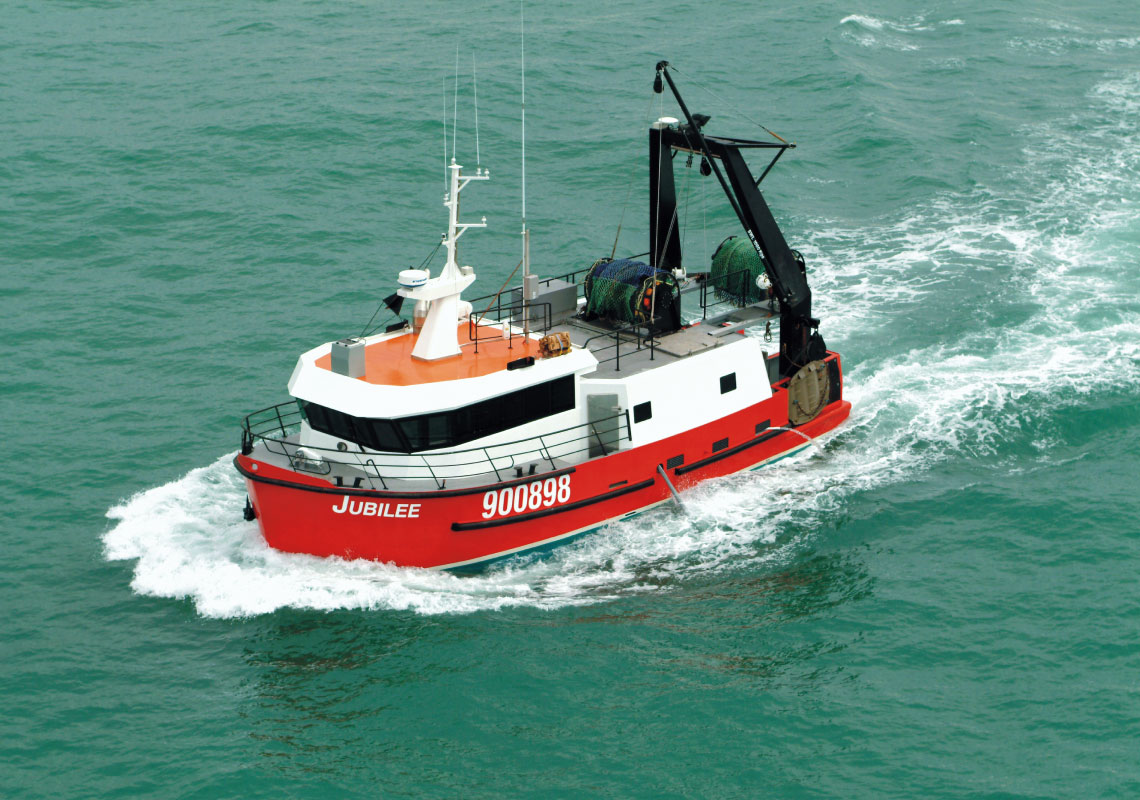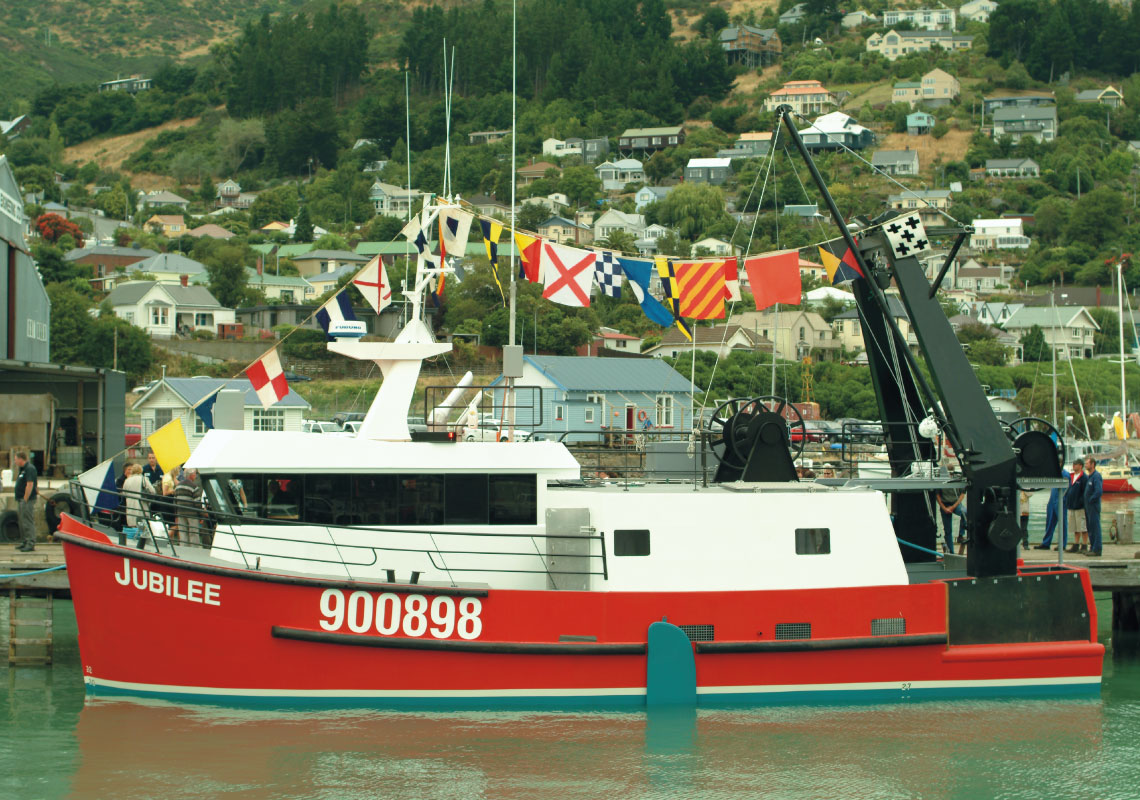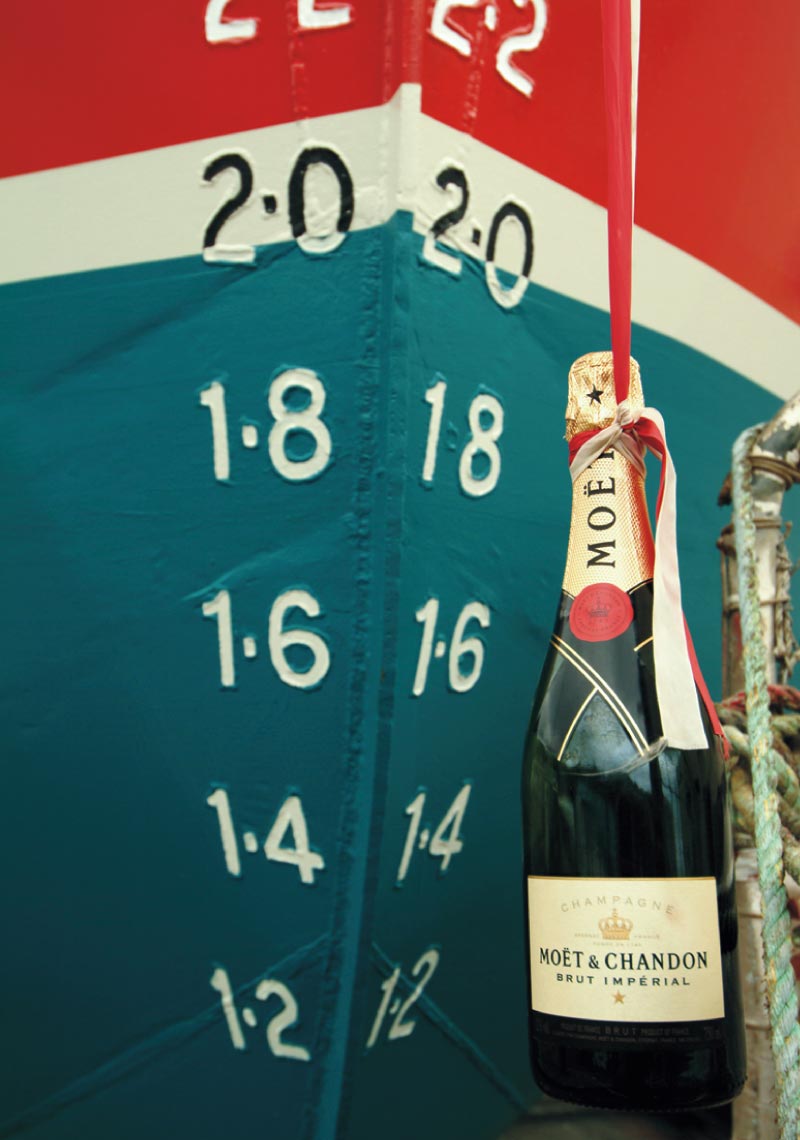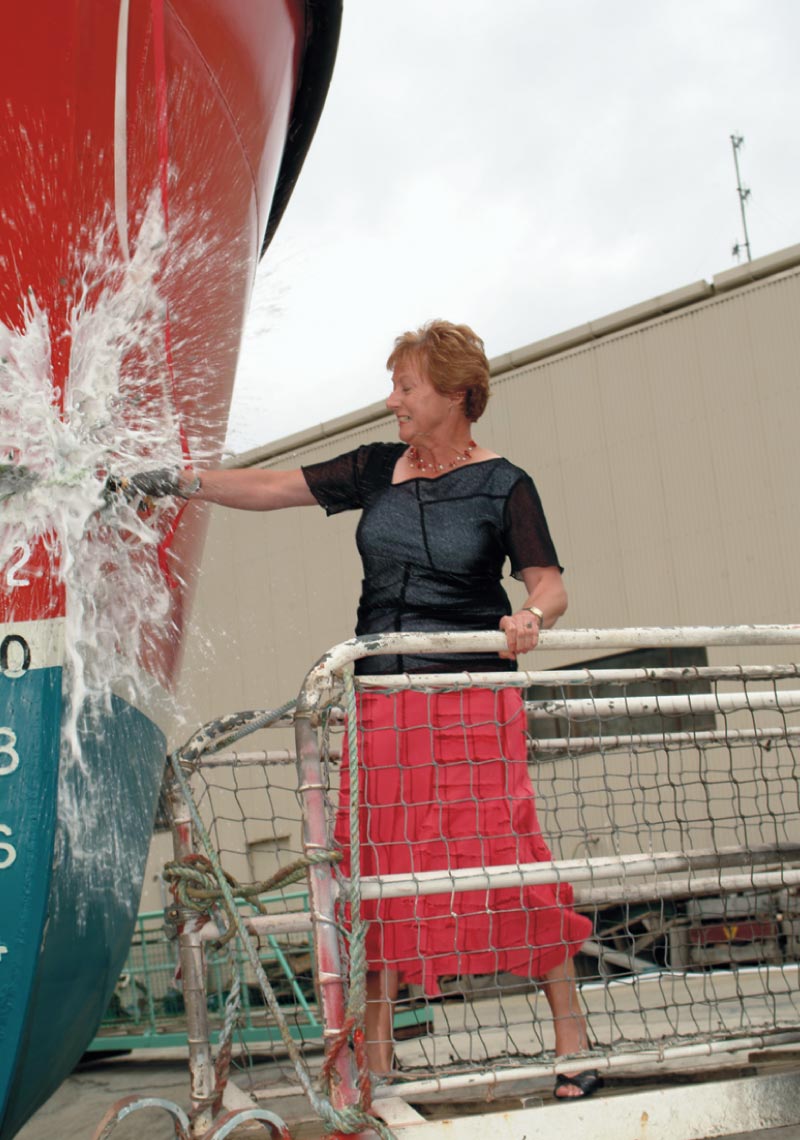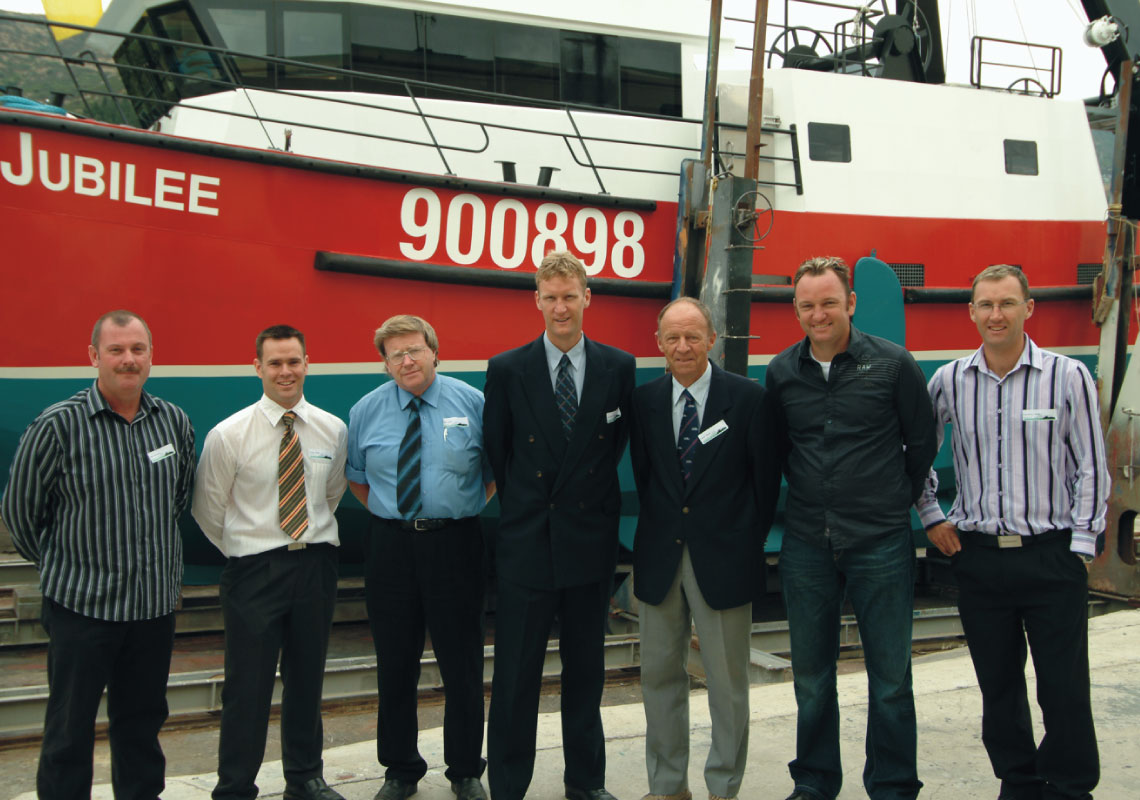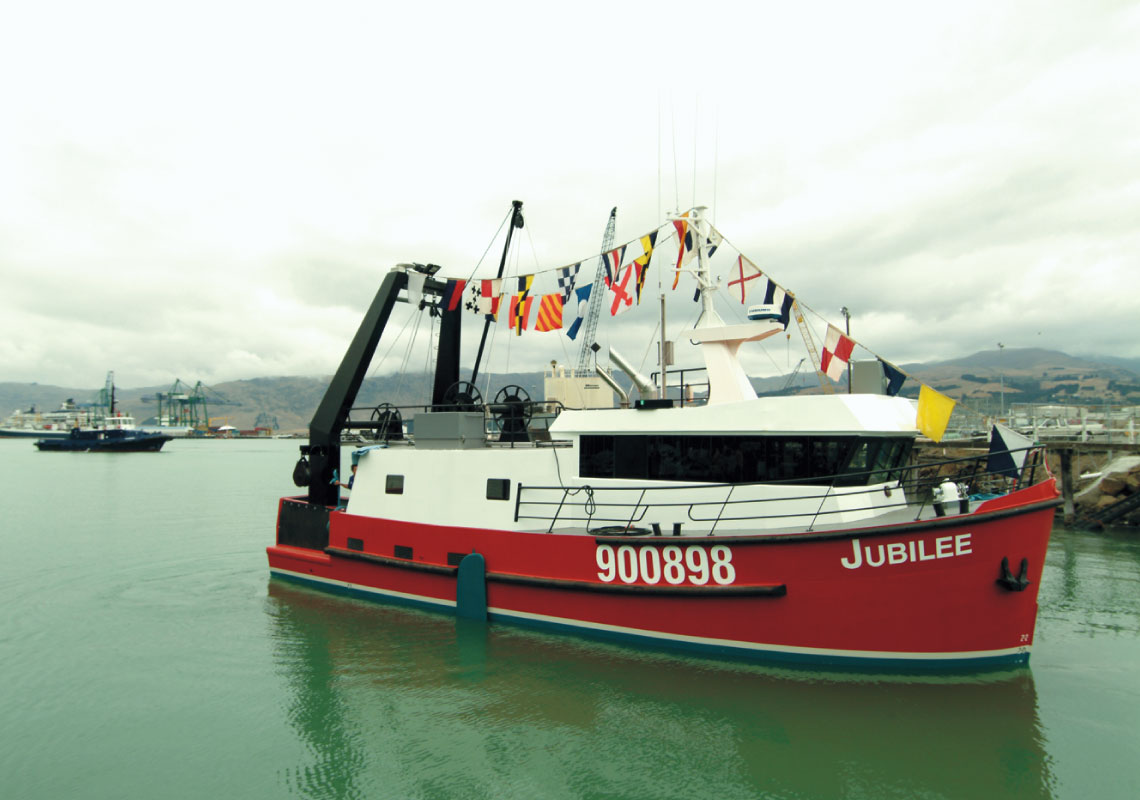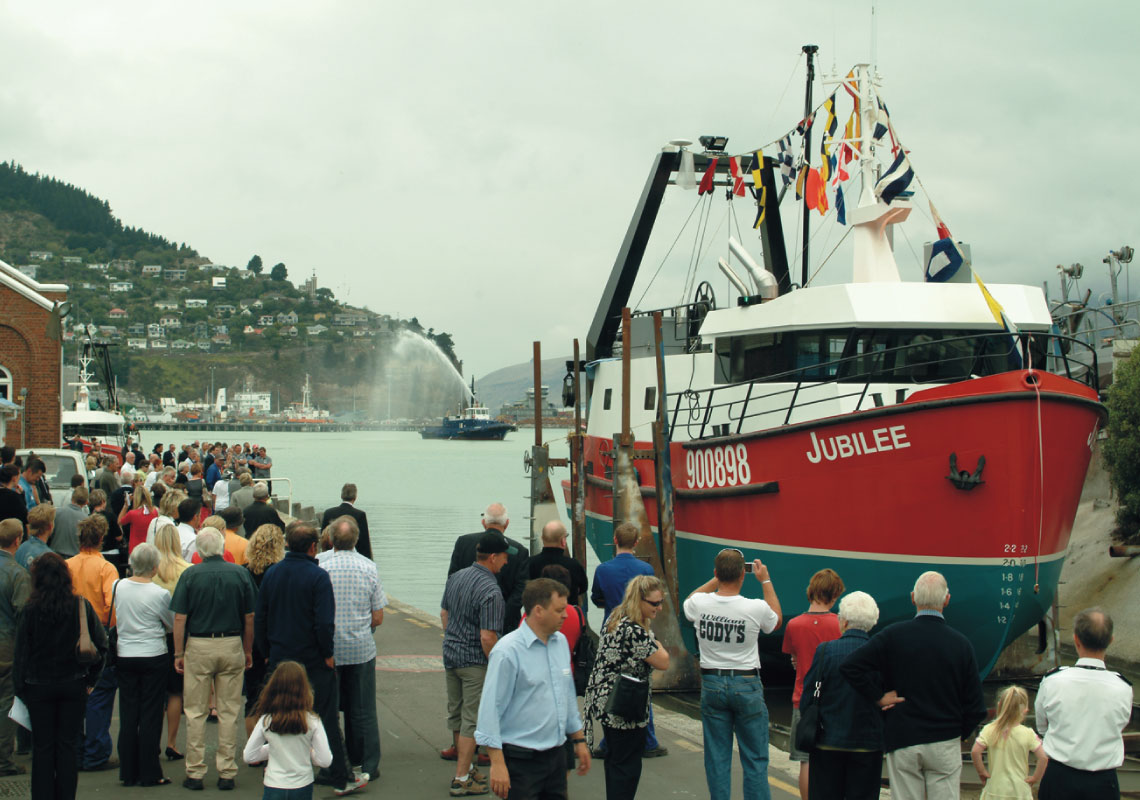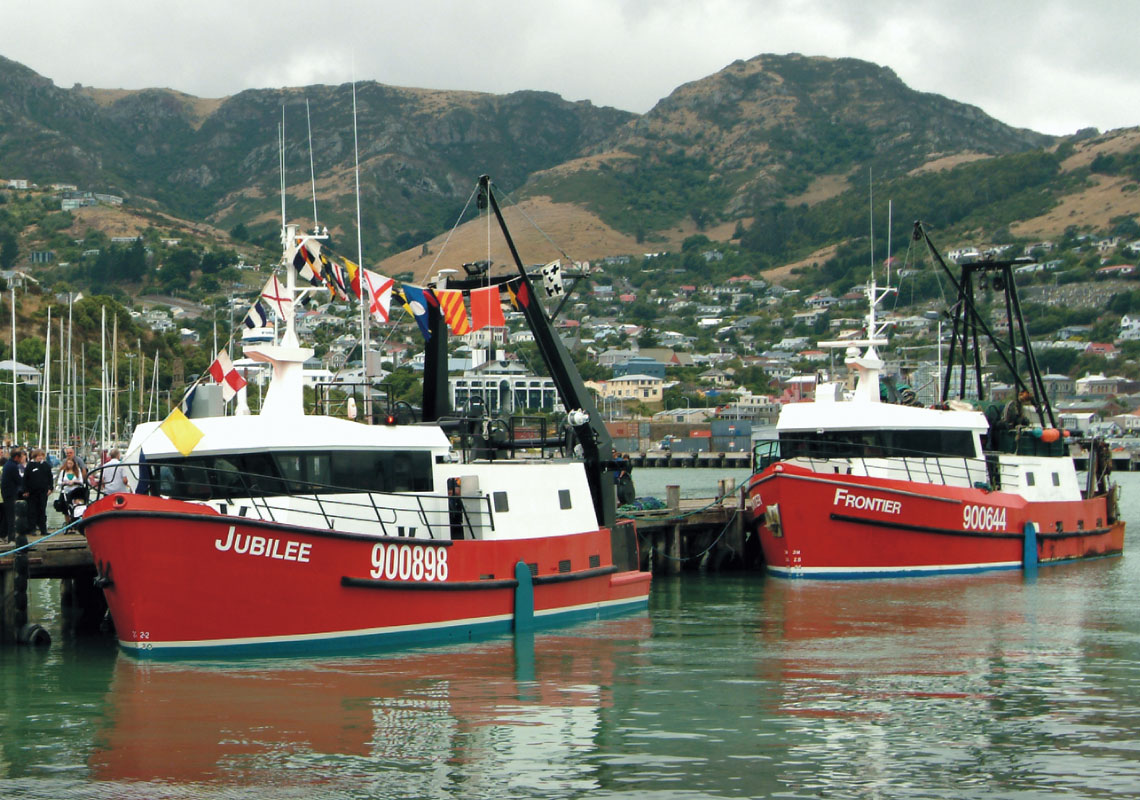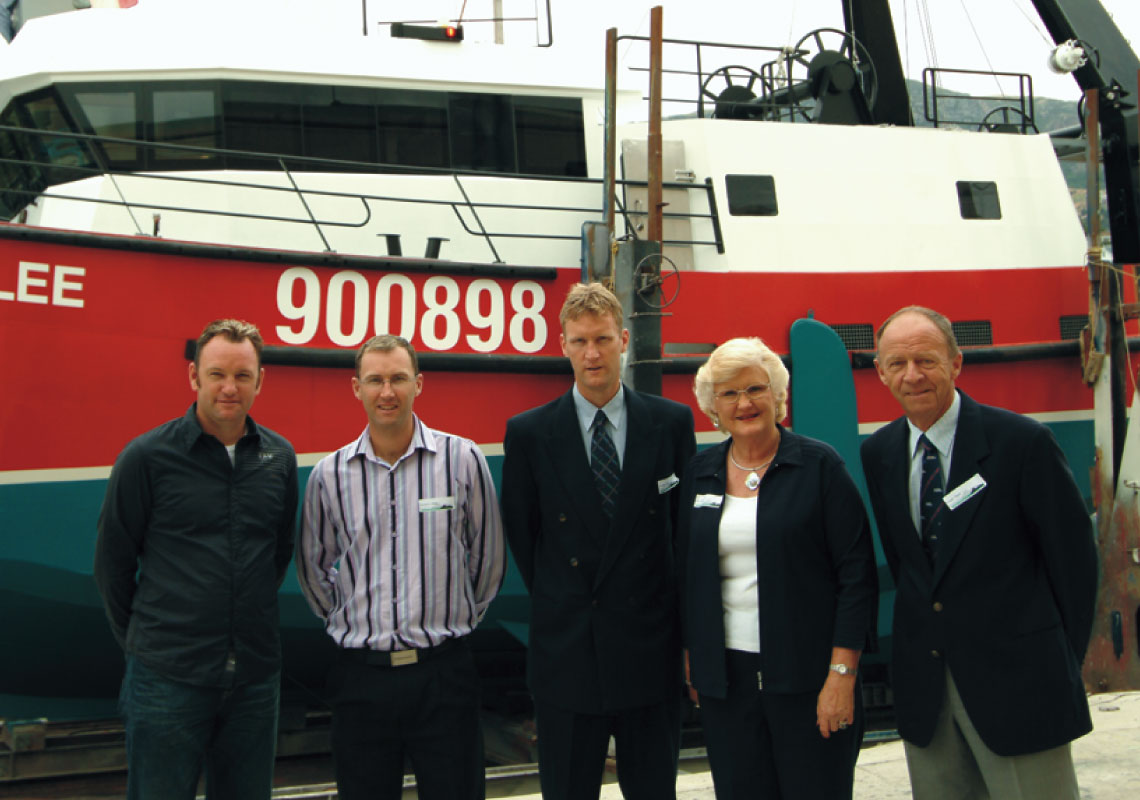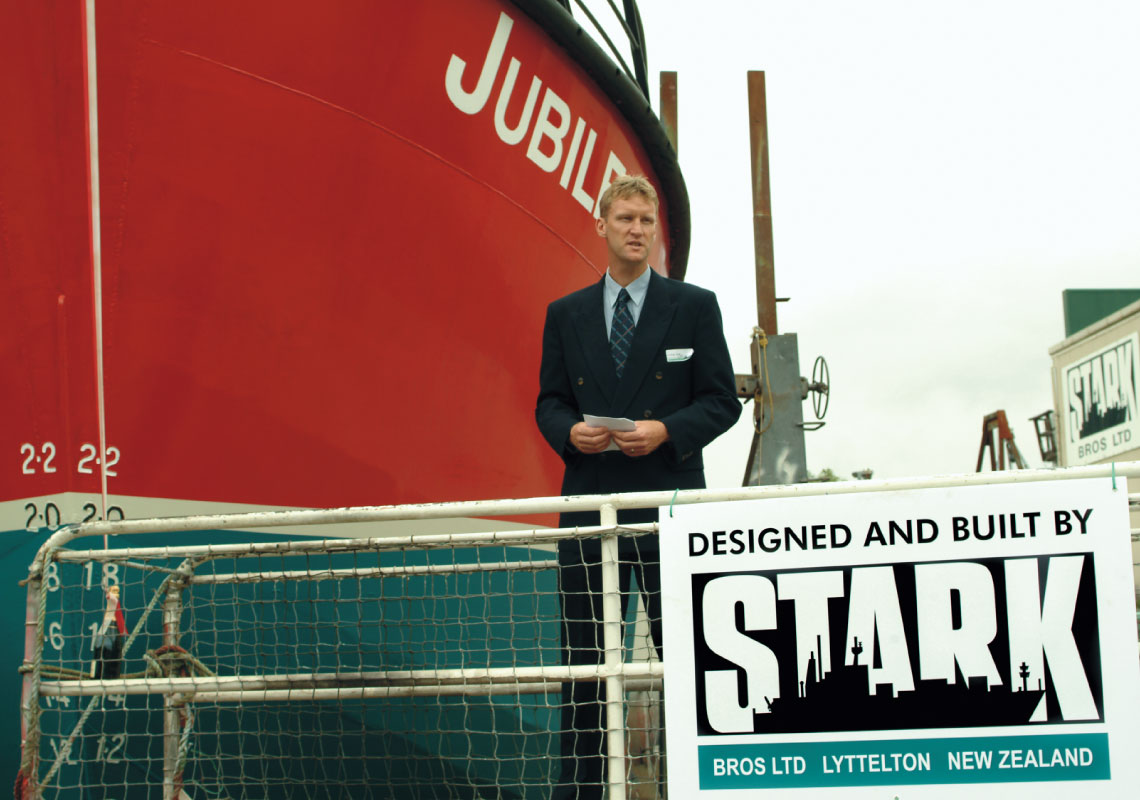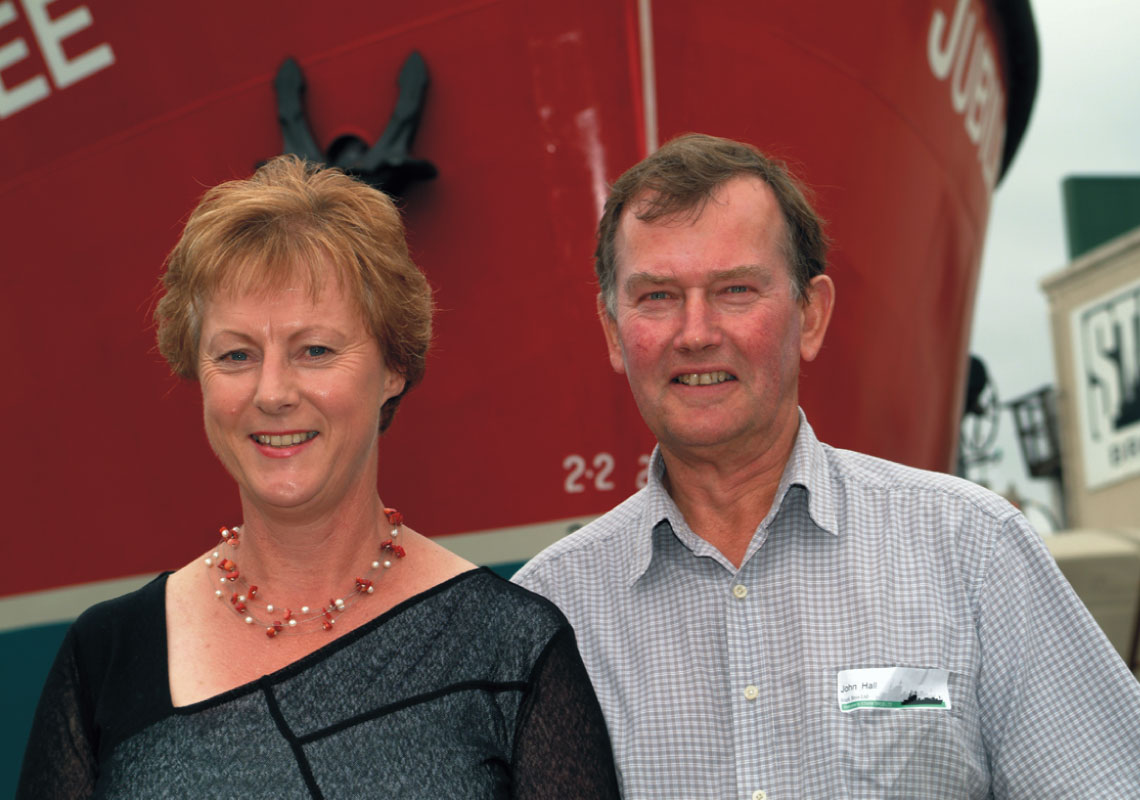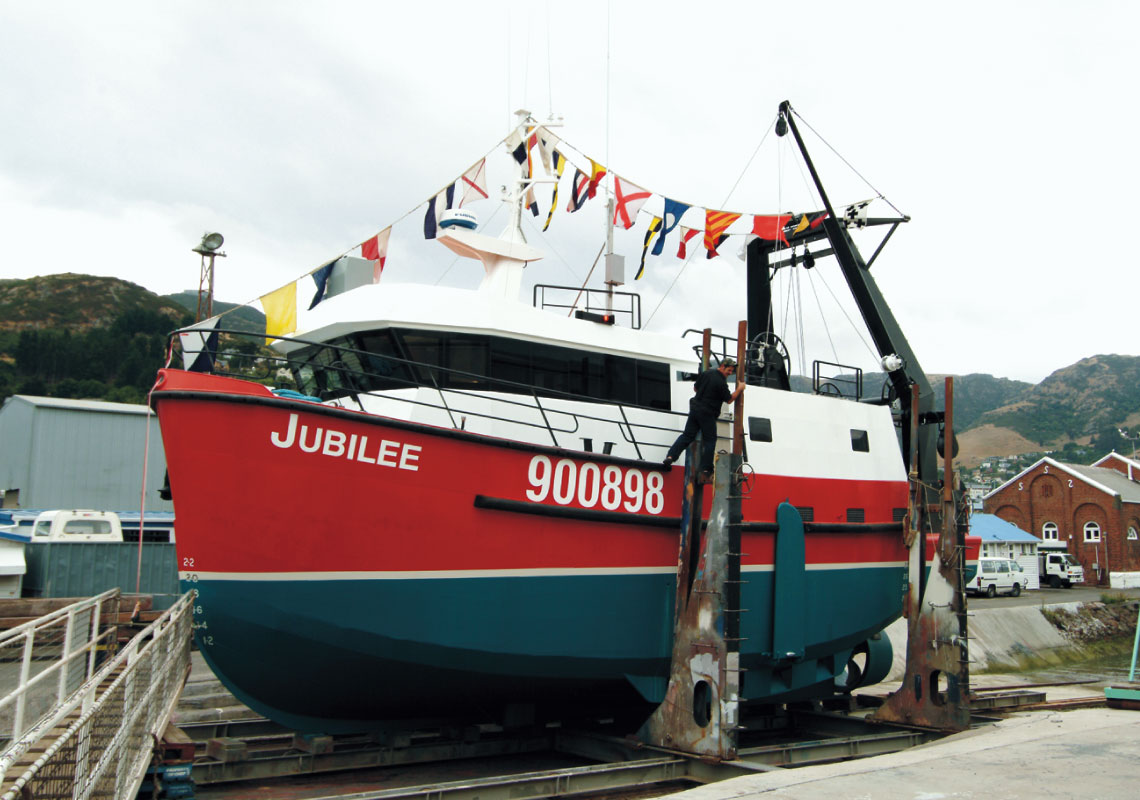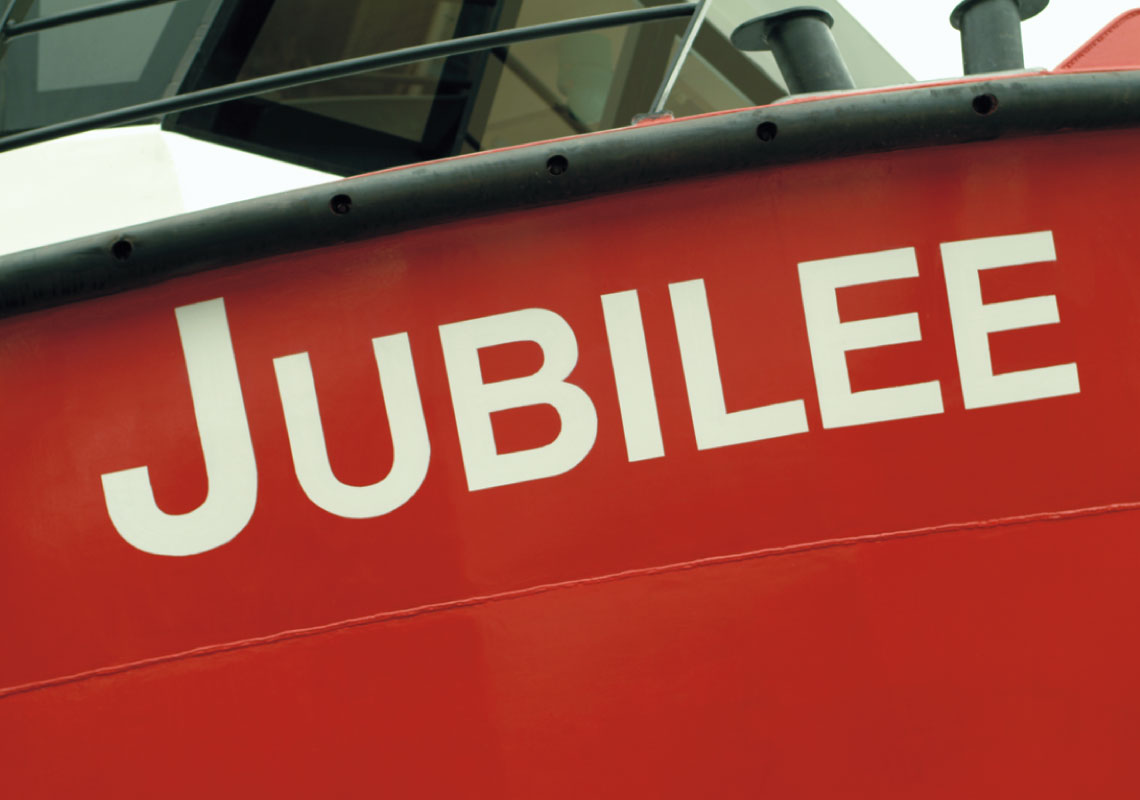 The name "Jubilee" has been chosen as Stark Bros is celebrating its 50th year of business this year, to mark it in part with the launch of another fine vessel for Ocean Fisheries is particularly pleasing and another achievement in our history.

The FV Jubilee is fully equipped with a variable pitch propeller, onboard salt water ice maker, computer controlled split hydraulic winches with auto scrolling, and will fish the varied conditions and fishing grounds particular to the East Coast South Island of New Zealand, fishing in depths from 10m to about 500m.

Stark Bros continues to push the boundaries and is prepared to challenge existing norms in the pursuit of competitive advantages within the fishing industry — this vessel is no exception.

Careful selection of the main engine — resulting in a very fuel efficient SCANIA DI12 59M, which combined with the variable pitch propeller, revolutionary stabilising wings, and new light weight / high strength fishing nets, should result in a very efficient and profitable unit.

The FV JUBILEE is believed to be the first commercial vessel in NZ to be run on B100 or 100% Bio Diesel, and is also probably the first new commercial engine on either land or sea commissioned in NZ to run on B100.

Ocean Fisheries has been trialling the use of BioDiesel on the FV Frontier which is currently running on a B60 blend — that is 60% Bio-diesel with 40% petroleum diesel, this lead to the decision to commission the FV Jubilee on 100% Bio diesel or B100.

Stark Bros / Ocean Fisheries are working closely with Biodiesel New Zealand (a subsidiary of Solid Energy NZ ) which is processing Canola Oil into Bio Diesel to meet the high specifications required by the European Standard EN14214.
The processing of both recycled and virgin canola oil into a high spec diesel fuel, results in a number of advantages for use in the marine environment, including a reduced carbon footprint, reduced harmful effects should a fuel spillage occur, and less harmful particulate emissions into the environment.

Starks are proud to be pioneering the use of 100% and high blend bio-diesel in NZ.

Stark Bros believe that even in today's relatively tough conditions, existing operators should be looking at new fishing vessels, along similar lines to the Jubilee, to enhance the efficiency and productivity of their operations within the Inshore and Middle Depth Fisheries — if you are a proactive fishing company — you should be talking to Stark Bros Ltd.
Specifications:
| | |
| --- | --- |
| Type of craft: | Trawler |
| In Survey to: | NZ Offshore Fishing Vessel |
| Home Port: | Lyttelton, NZ |
| Owner: | Cressy Fishing Ltd |
| Operator: | Ocean Fisheries Ltd |
| MNZ #: | 133118 |
| Radio Call Sign: | ZMT3768 |
| Fishing Number: | 900898 |
| Designer and Builder: | Stark Bros Ltd |
| Construction Material: | Steel |
| Length Overall: | 16.0m |
| Design Water Length: | 15.52m |
| Beam: | 5.60m |
| Draft: | 2.60m |
| Displacement: | 91.30 Tonnes |
| Free Running Speed: | 9 knots |
| Main Engine: | SCANIA DI12 59M 350 HP @ 1800 rpm |
| Gearbox: | Hundested Marine Gear CPG‑32 4.45:1 |
| Propeller: | Hundested Variable Pitch 7 HP/HP, 1330mm diameter, 4 blade, RH Propeller |
| Steering: | Hydraulic with Stark Bros Steerable Nozzle |
| Radar: | Furuno NavNet VX22, 36nm radar / chart plotter (10" LCD) |
| Compass: | Saura MR-150 |
| Depth Sounder: | Furuno FCV1100L dual frequency 2kW (10" LCD) |
| Radio SSB: | Icom IC-M802 SSB radio |
| Radio VHF: | com IC-M302 VHF radio |
| Auto Pilot: | Furuno NavPilot 500 |
| GPS: | Furuno SC-30 satellite compass |
| Chart Plotting: | SEAPLOT |
| Watch Alarm: | OceanWatch III autopilot watch-keeping alarm |
| EPIRB: | GME MT401FF (406 class 2, category 1) |
| Trawl Winches: | Stark Bros Hydraulic split winches, computer controlled, auto scrolling / wire counting, 1500m x 14mm wire per winch |
| Cod End Winches: | 2 x Rotzler Titan TC2 – 2700kg per each |
| Unloading Winch: | 1 x Rotzler Titan Planetary TH 1 Hydraulic Winch – 1000kg |
| Net Rollers: | Stark Bros - 1 x Main, and 1 x spare net roller |
| Fish Hold: | 40 cubic metres capacity |
| Refrigeration | Brema Saltwater Ice Maker, 900kg /24hr and cold wall refrigeration pipes in fish hold |
| Paint: | Altex Paints |
| Liferaft: | RFD Surviva 4 man SOLAS A pack |
| Fuel Capacity: | 9000 litres |
| Fresh Water Capacity: | 3000 litres |
| Lube Oil Capacity: | 1200 litres |
| Waste Water Capacity: | 100 litres |
| Hydraulic Oil Capacity: | 200 litres |
| Crew: | 3 |
| Date of Delivery: | January 2008 |
DOWNLOAD FV JUBILEE SPECIFICATIONS