Stark Bros Ltd and Ocean Fisheries Ltd proudly presented the FV Frontier for launch on 10th August 2004.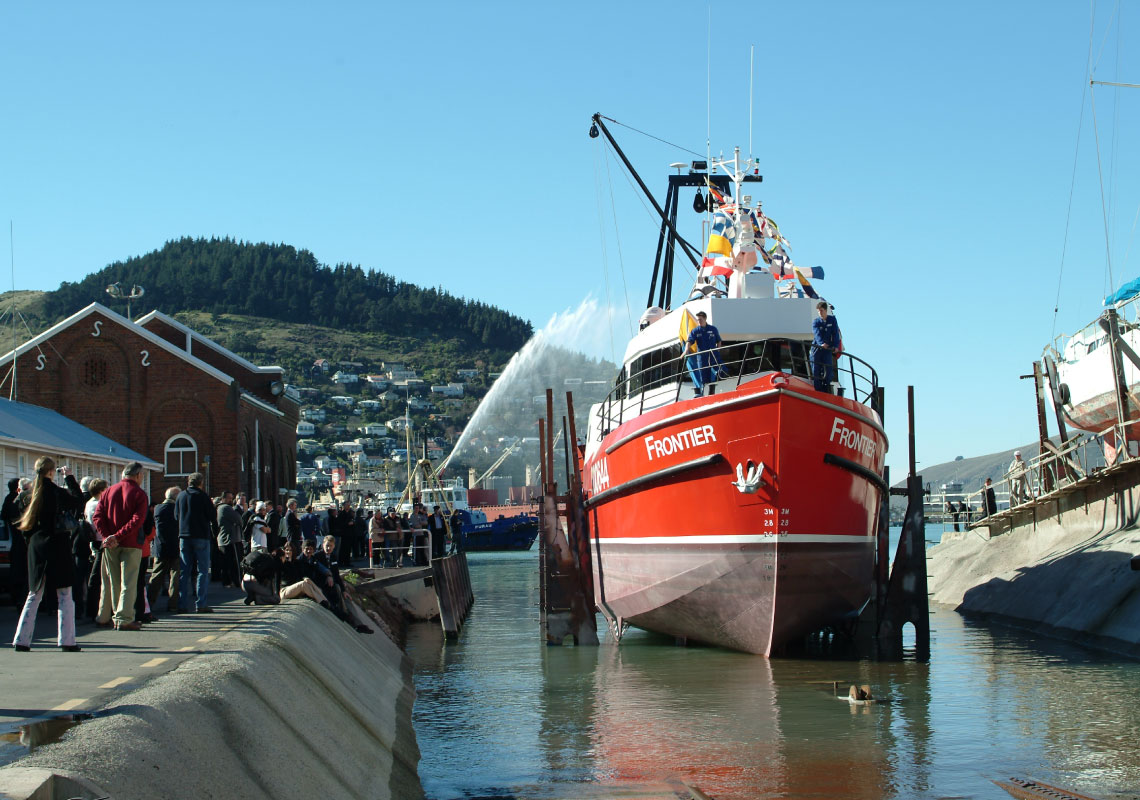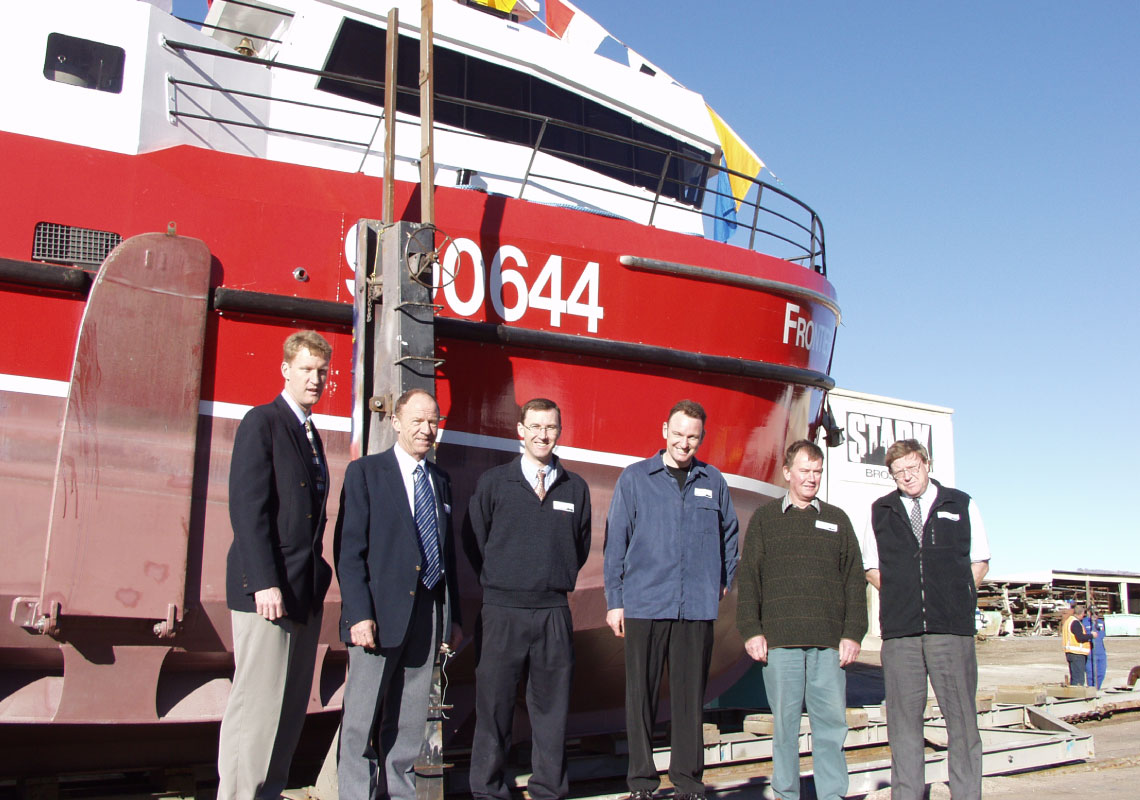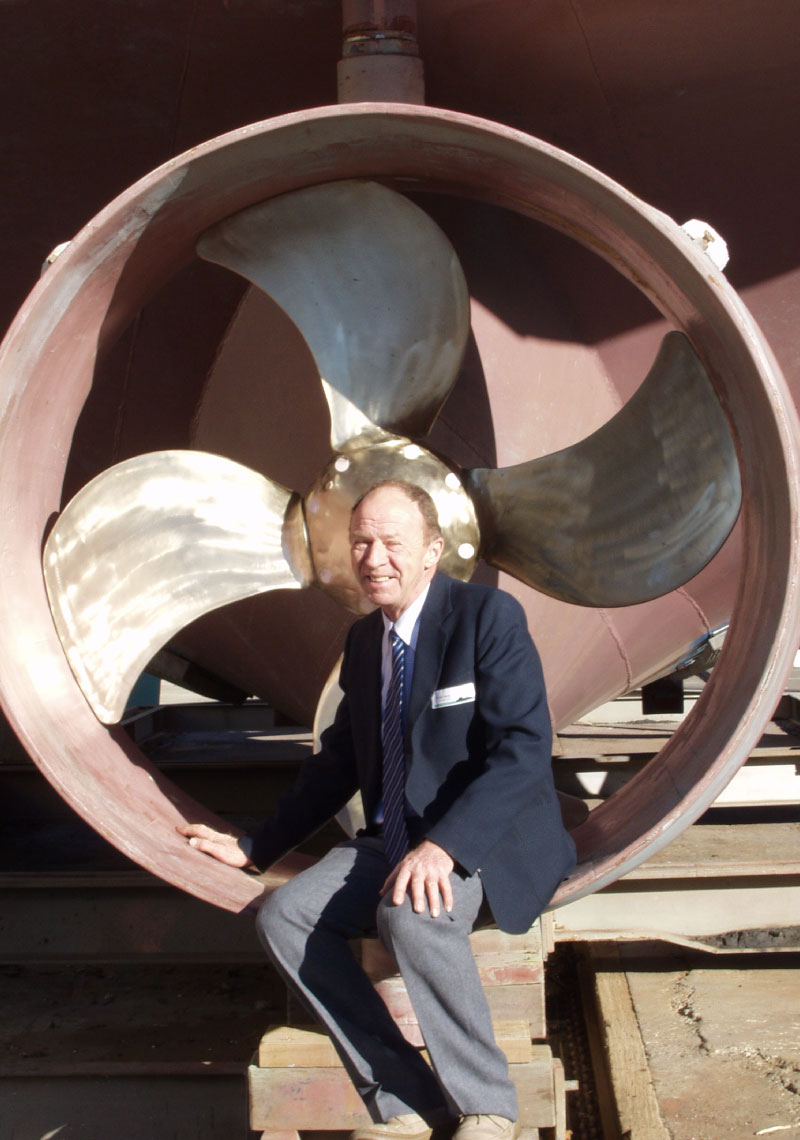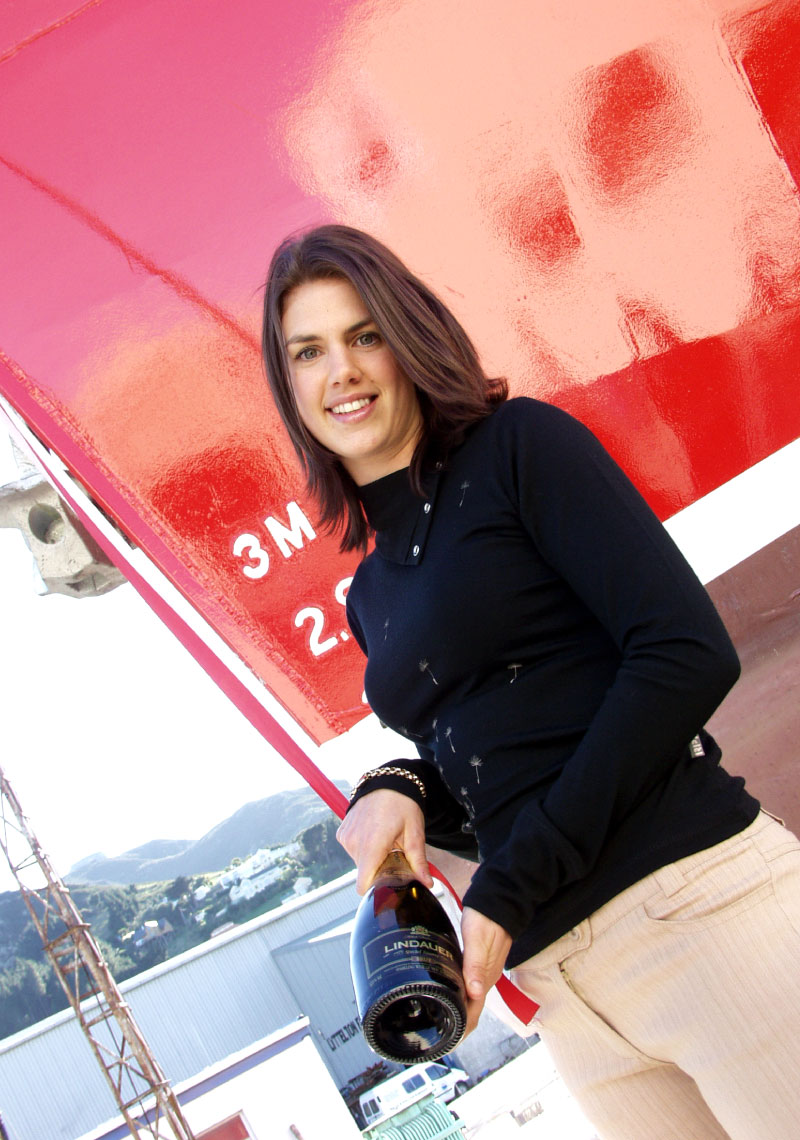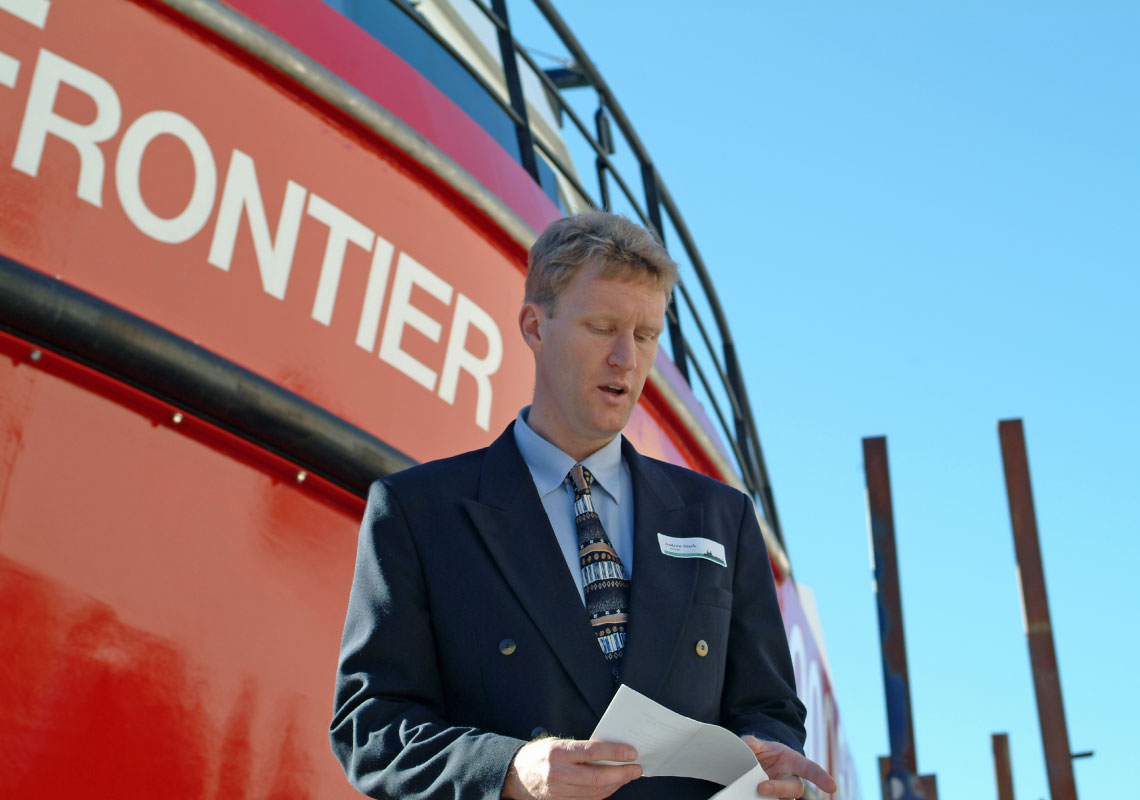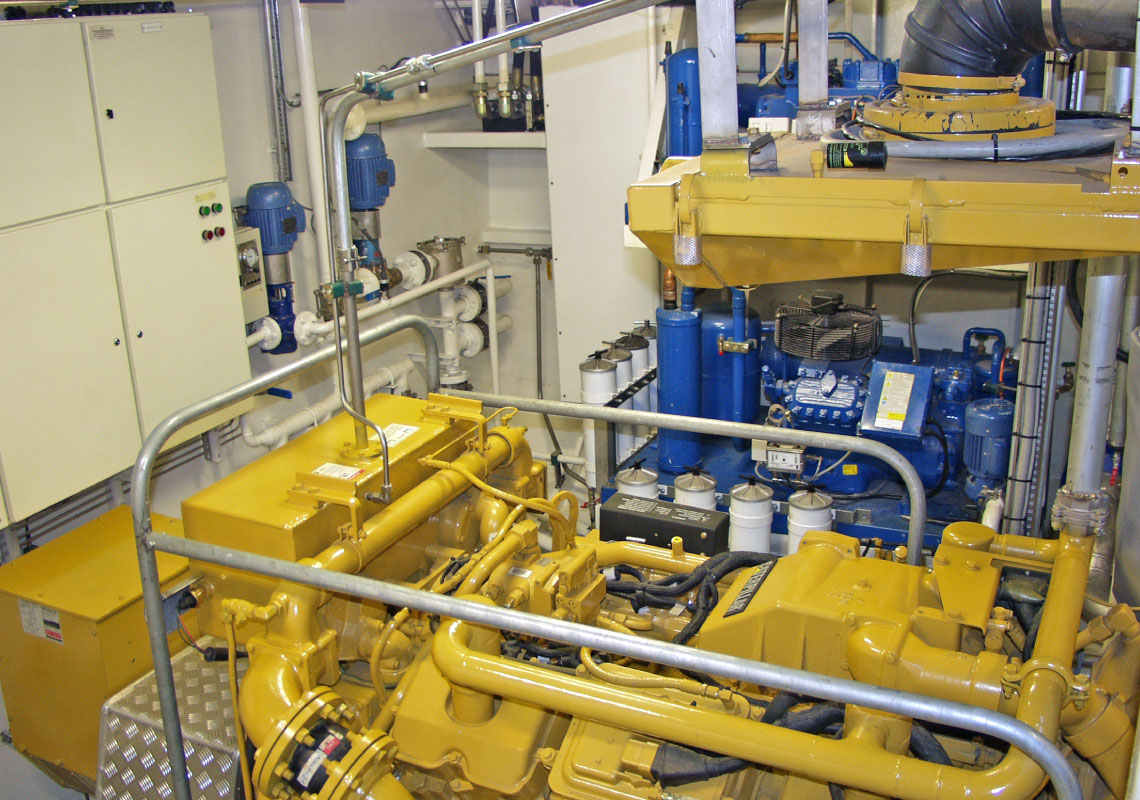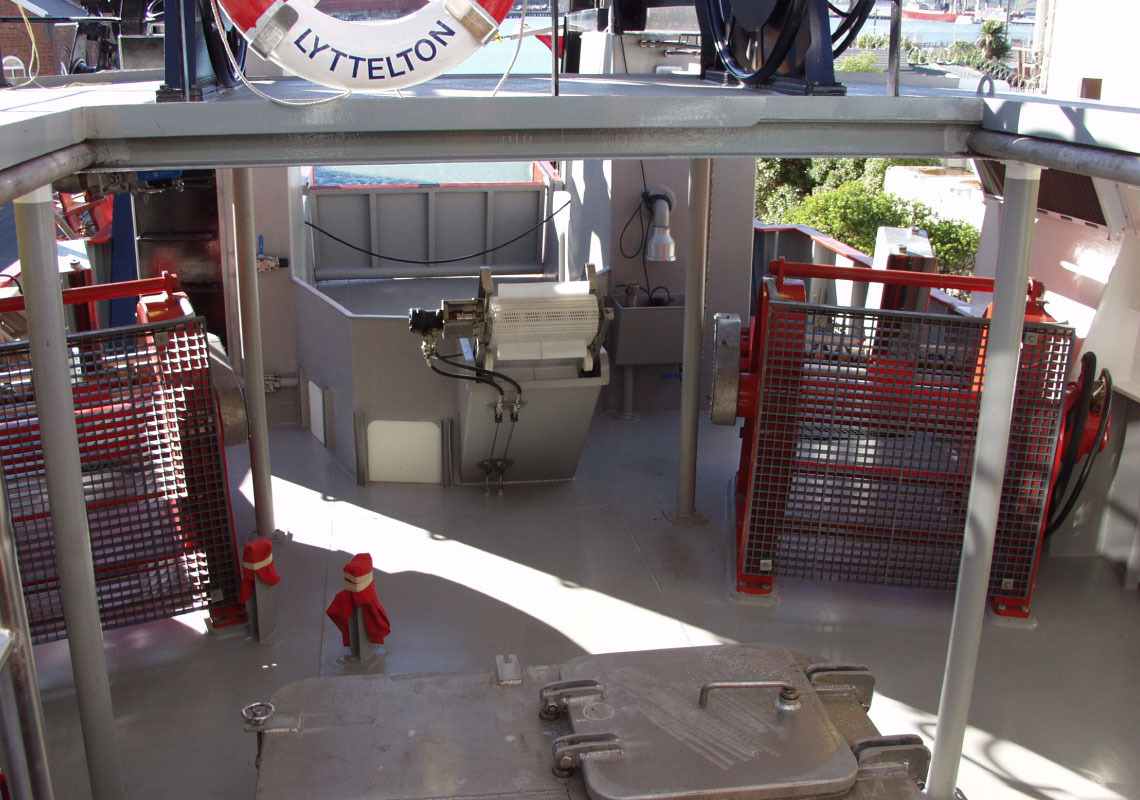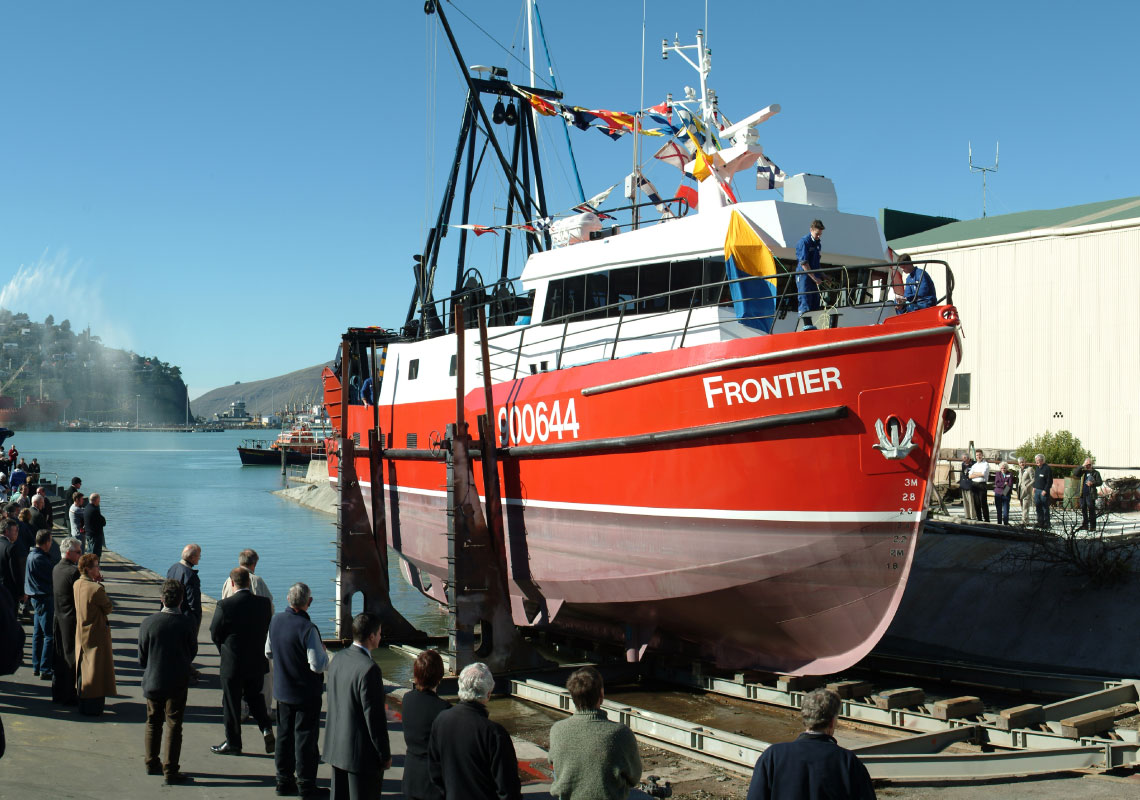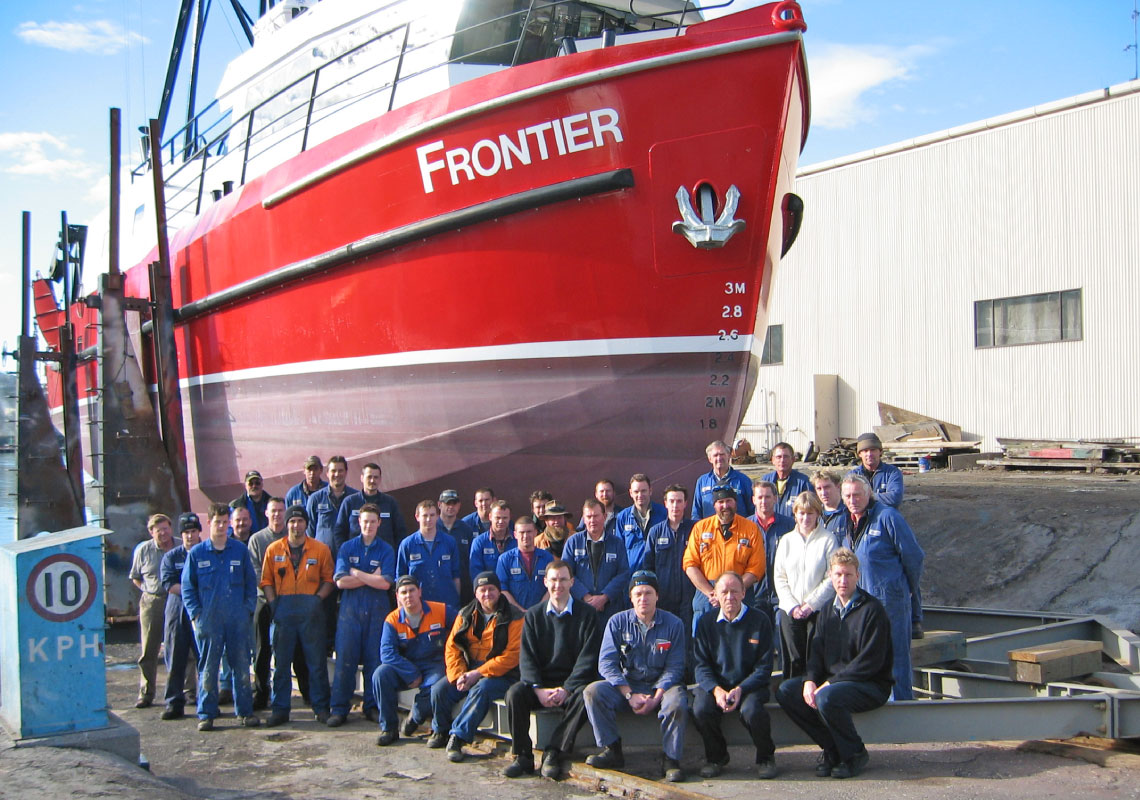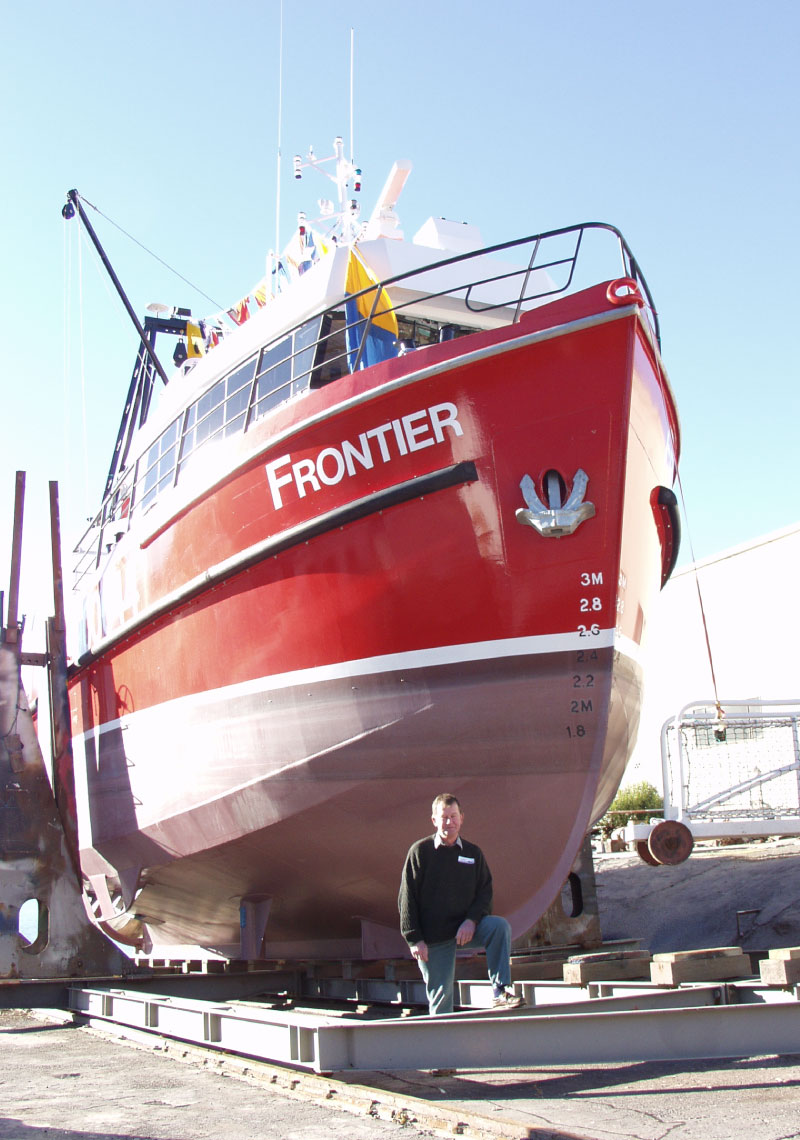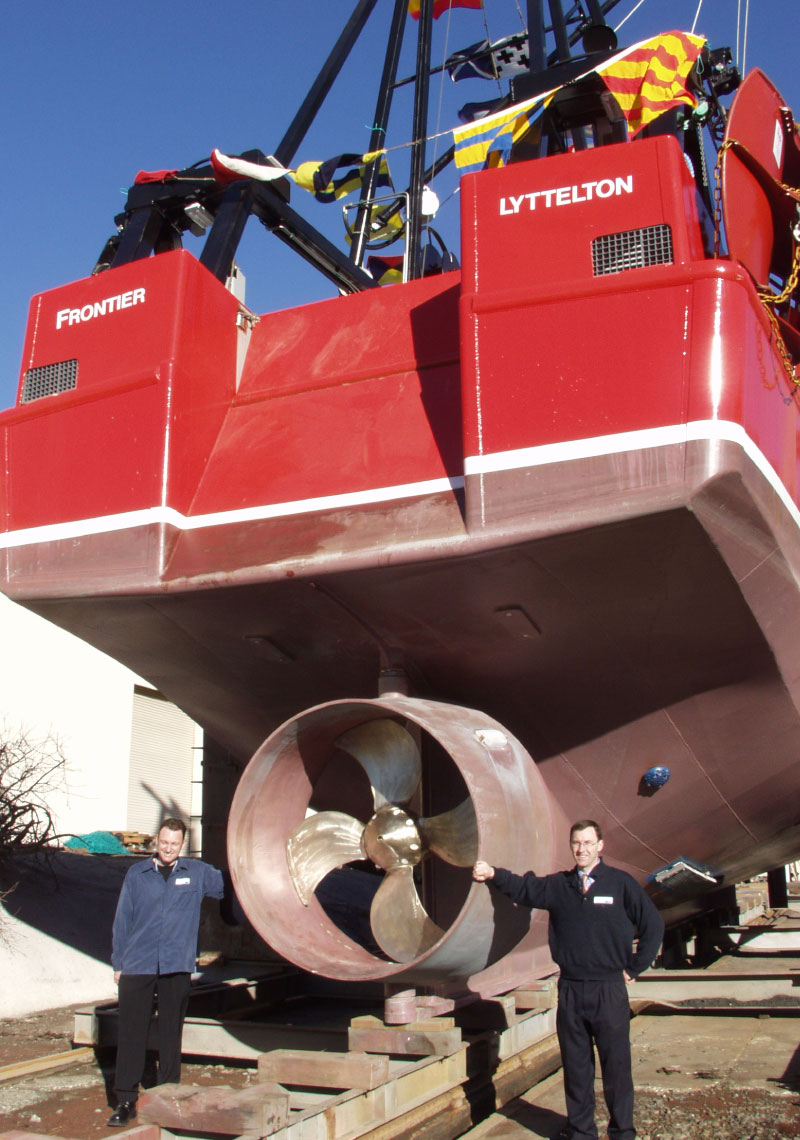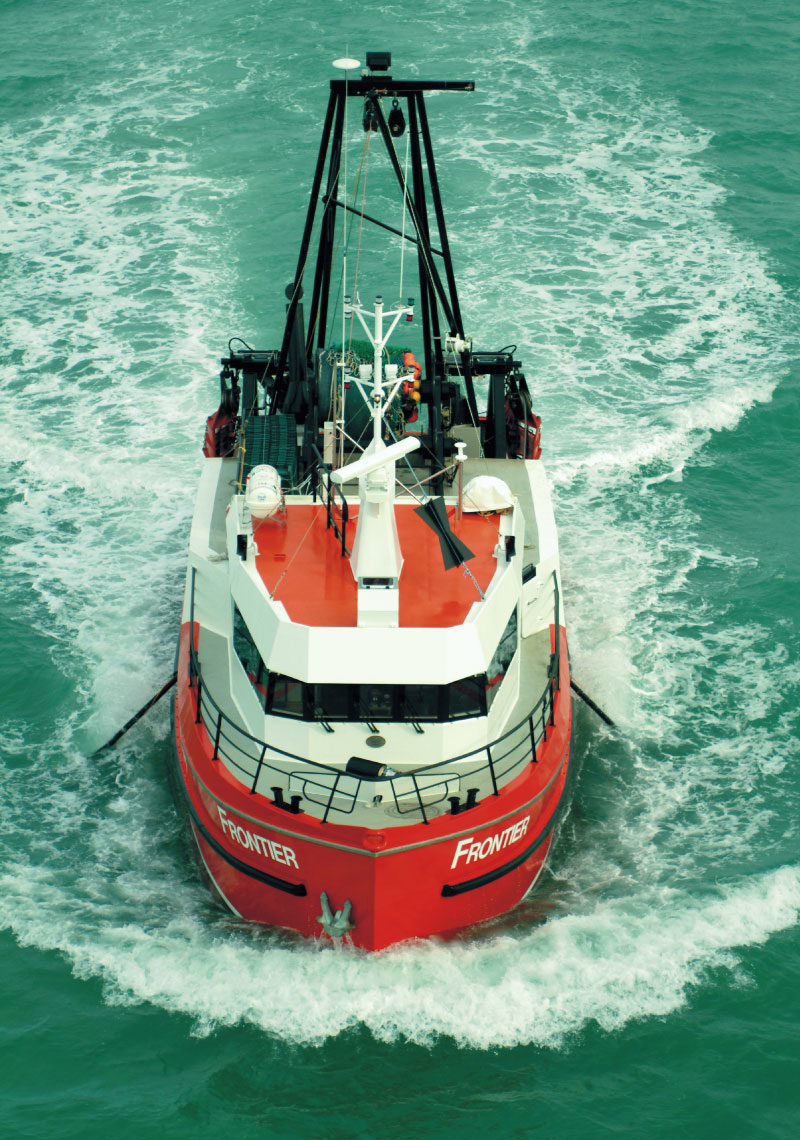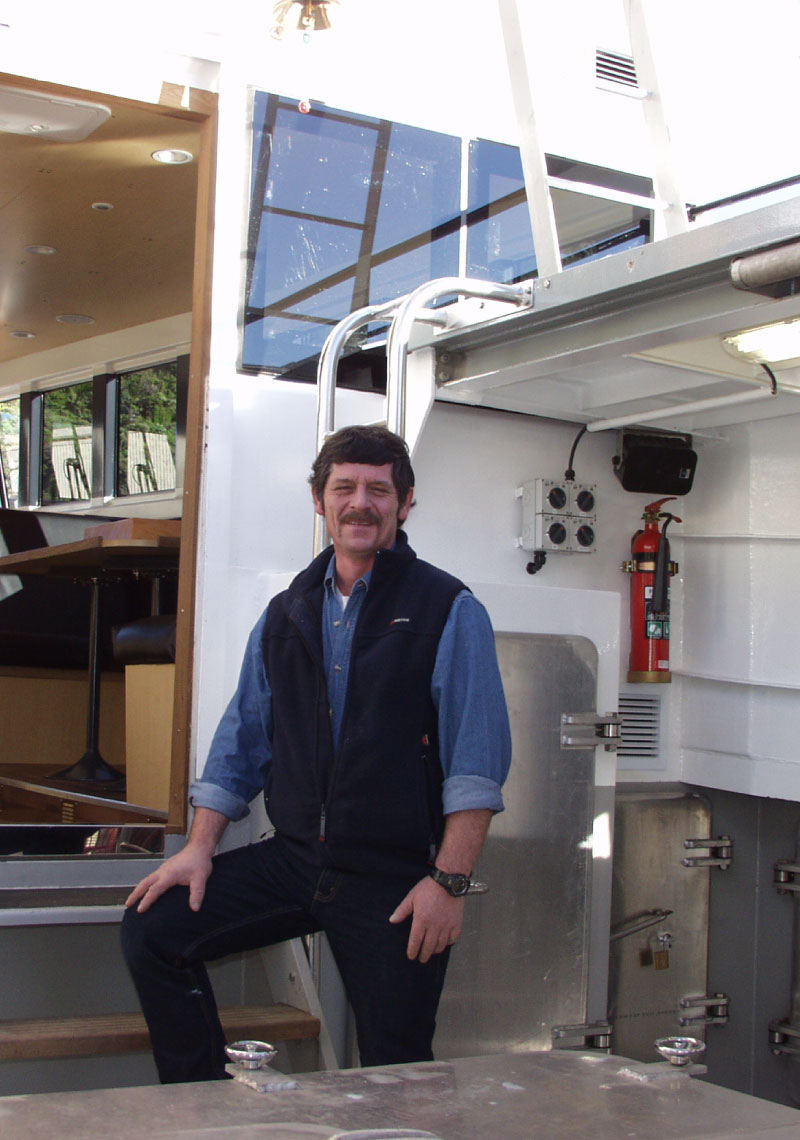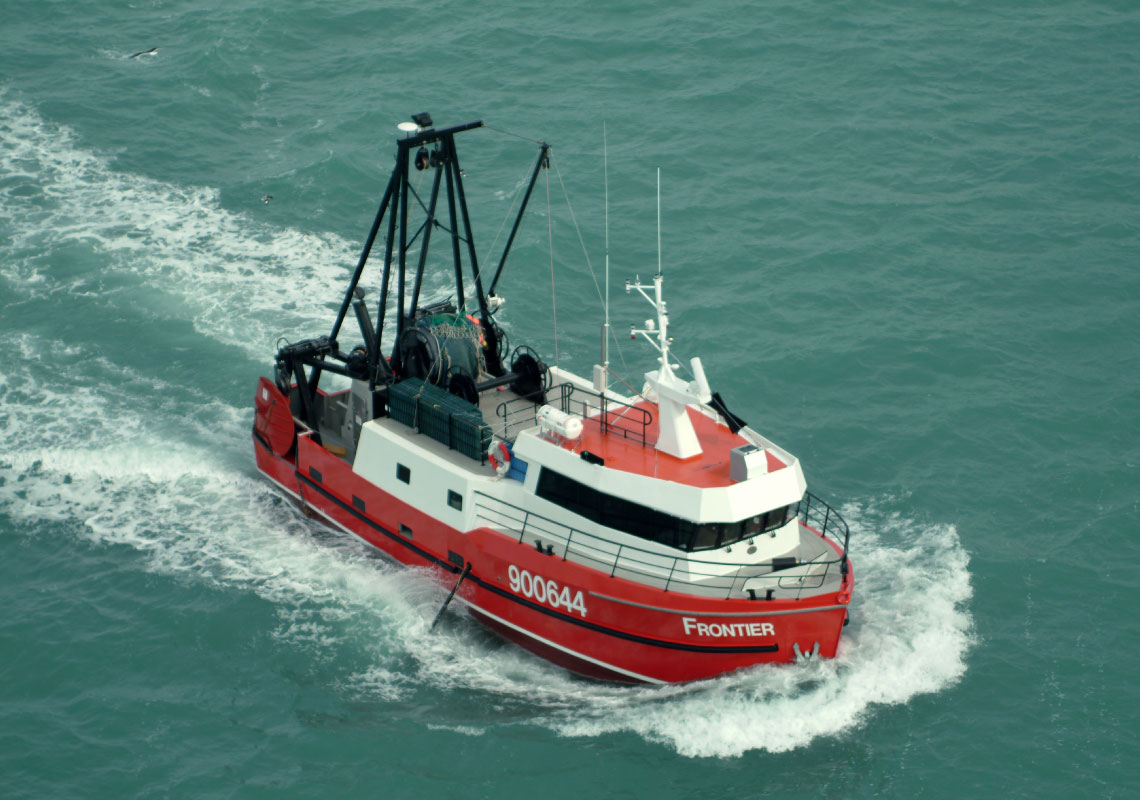 This has been an exciting project, with the first steel being cut in November 2002, and steady progress being made throughout the 19 month build period, culminating in the finished vessel.

It is believed that the FV Frontier will revolutionise the mindset for "small boat" fishing in New Zealand. It has been specifically designed to fish the varied conditions and fishing grounds particular to the East Coast South Island of New Zealand, ranging in depth from 10m to 1200m.

Economic operation within a wide range of fishing areas, from traditional inshore "market" fishing through to deepsea/ offshore fi sheries, means that it has the capabilities to handle high volume fish such as Squid, Hoki, and Red Cod in season, while also maintaining the ability to operate with smaller quantities of traditionally higher value / market species such as Flat Fish, Gurnard, Tarakihi, etc.

The range and specifi cations of the equipment fitted to this vessel mean that it will be unlike any other small fishing vessel operating in New Zealand at this time, although Stark Bros Ltd seek to change this and are actively looking at the prospects of additional design and build contracts along similar lines to this vessel for pro-active medium and large fishing companies operating within the Inshore and Middle Depth Fisheries.

A Big Little Ship —This trawler incorporates features traditionally reserved for the large factory fi shing trawlers, and this vessel will deliver quality and economy that can only lead to increased profitability.
Specifications:
| | |
| --- | --- |
| Type of craft: | Trawler |
| In Survey to: | NZ Offshore Fishing Vessel |
| Home Port: | Lyttelton, NZ |
| Owner: | Randolph Fishing Ltd |
| Operator: | Ocean Fisheries Ltd |
| Designer/Builder: | Starks Bros Ltd |
| Construction Material: | Steel |
| Length Overall: | 19.15m |
| Design Water Length: | 18.444m |
| Beam: | 6.120m |
| Draft: | 3.100m |
| Displacement: | 146.00 Tonne |
| Free Running Speed: | 10.4 knots |
| Main Engine: | Caterpillar 3412E 474kW (635 HP) @ 1500 rpm |
| Gearbox: | Hundested Marine Gear CPG-32 3.96:1 |
| Propeller: | Hundested Variable Pitch 9½" Hub, 1.6m diameter, 4 blade propeller |
| Steering: | Hydraulic with Stark Bros Steering Nozzle |
| Radar: | JRC JMA 5110 Black Box, 10kW, 72 mile |
| Compass: | Saura MR-150 |
| Depth Sounder: | Simrad EQ60 - 38/200 Khz & combi wide 38 Khz transducers |
| Sonar | Wesmar HD800/110 – 8" |
| Radio SSB: | JRC JSB 196 |
| Radio VHF: | Simrad RT62:F |
| Auto Pilot: | Simrad AP50 |
| GPS: | JRC JLR-10 GPS Compass with display |
| Chart Plotting: | MaxSea Pro v10, 2D & 3D with PBG |
| Trawl Instrumentation: | Simrad ITI |
| Watch Alarm: | Trident |
| EPIRB: | NAT S/Find GPIRB11 CAT 1 |
| Mains Power Supply: | M/E Shaft driven Stamford 175kva 400v 3P 50Hz |
| Trawl Winches: | Stark Bros Hydraulic split winches, computer controlled, auto scrolling / wire counting, 13 tonne x 2500m x 16mm wire per winch |
| Cod End Winches: | 1 x 9 tonne Pullmaster M18, 1 x 3 tonne Brevini EC 3045 |
| Unloading Winch: | Titan Planetary TH 1 Hydraulic Winch |
| Net Rollers: | Stark Bros - 1 x Main, and 1 x spare net roller. |
| Fish Hold: | 75 cubic metres capacity |
| Refrigeration | North Star 5 SS, Salt Water Ice Maker 2.6t/24hr and Cold Wall Refrigeration Plates in Fish Hold |
| Paint: | International Paints |
| Liferaft: | RFD Surviva 8 man SOLAS A pack |
| Fuel Capacity: | 17,500 litres |
| Fresh Water Capacity: | 3,500 litres |
| Lube Oil Capacity: | 1,800 litres |
| Waste Water Capacity: | 500 litres |
| Hydraulic Oil Capacity: | 2,200 litres |
| Crew: | 4 |
| Date of Delivery: | August 2004 |
DOWNLOAD FV FRONTIER SPECIFICATIONS