FULL SERVICE MARINE SPECIALIST
We do it all!
Stark Bros is truly a full service marine specialist, this includes providing a fleet of heavy trucks, equipment and storage buildings/yards as required by the shipping industry for the:

Transport of equipment and materials in relation to ship repairs being undertaken.
Transport and storage of fishing equipment/fishing nets/packaging.
Receipt/storage/forwarding of ships stores.
Stark Bros have in excess of 3000 square metres undercover and 12,000 square metres of secure land area dedicated to storage/transit activities.
Removal/transport/waste oil/bilge water processing facilities.
Dry general rubbish disposal via rubbish skip collection.
Vehicles operated include - 4 truck mounted cranes, curtainsiders, flatdecks, B-Train, dumpers, tankers, low loaders, forklifts.
Specialist equipment operated includes wire rollers for pulling trawl wire off large factory trawlers - up to 3000 metres of 32mm steel wire.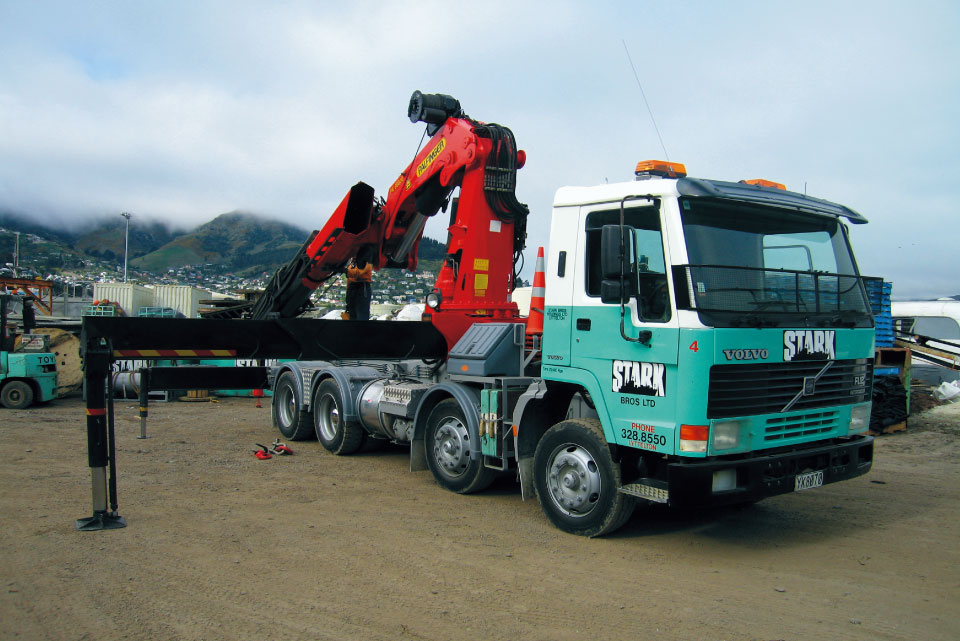 Well equipped fleet of heavy trucks
We operate four truck mounted cranes, the largest of which is the mighty Palfinger PK66000, with detachable fly jib, versatile and capable of lifting 1300kg at 26.5 metres  — this makes it ideal for hill building sites.

Combined with one of our many trailers this unit can transport equipment to your site, then lift it into place. This reduces the frustration of combining cranes and trucks — we do it all!

Our crane truck operators are all trained and certified. We also have man cages available to provide inspection/work platforms as required, in addition to craneage/placement of items.